CCCS21 Report
CCCS21 Video Playlist
About Cambodia Climate Change Summit 2021
On September 28, in the lead-up to the COP26 United Nations Climate Change Conference in Glasgow, business leaders, climate change experts and public sector representatives came together in the inaugural Cambodia Climate Change Summit 2021 (CCCS21) broadcast live from Phnom Penh's Raffles Le Royal Hotel to showcase their shared vision of a sustainable future.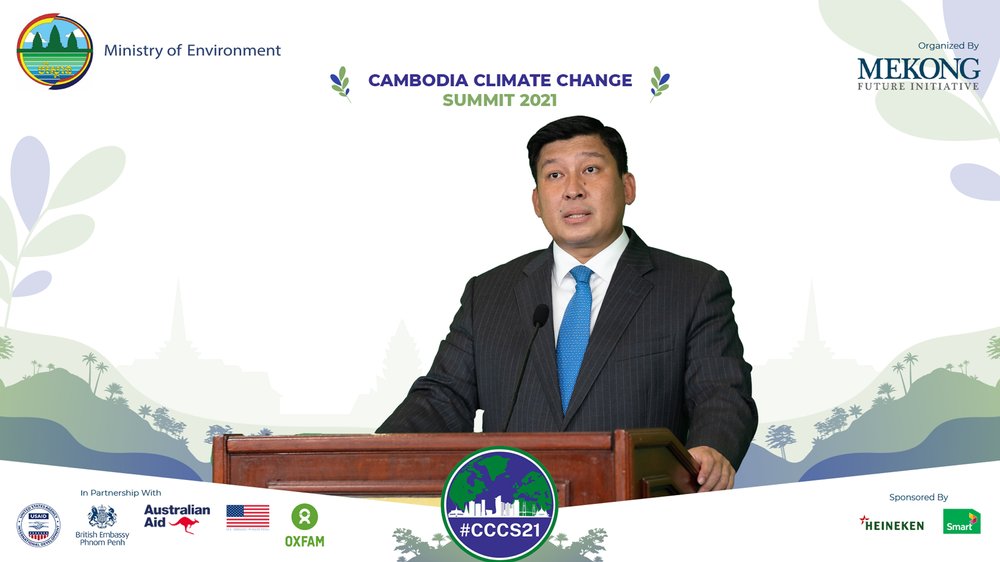 The day-long summit was organized by the Ministry of Environment and Mekong Future Initiative, a Singapore-based think-tank, in partnership with the British, Australian, and United States embassies, institutional policy-makers, and private enterprises and sponsored by HEINEKEN Cambodia & Smart Axiata.

Watching the broadcast live from across the nation, CCCS21 attendees gained essential insights into the latest climate-related policies and trends, including green investment initiatives and financing opportunities that will play a decisive role in ensuring Cambodia remains relevant to the future carbon-neutral global economy.
Mr Allen Dodgson Tan, Director General of the Mekong Future Institute, said the landmark summit was a chance to make real progress in Cambodia's transition to a green economy.
"This event has been an important platform for discussing key climate issues in the Kingdom," he said. "The response has been incredible from the private sector, a key factor in moving beyond policy and to action."
The summit enjoyed strong support both from private sector leaders and representatives of the international community. Minister of Environment HE Say Samal, who delivered key opening remarks on the urgency of global climate change action, was joined by British Ambassador to Cambodia Ms Tina Redshaw, the US Ambassador to Cambodia Mr W. Patrick Murphy, and the Australian Ambassador to Cambodia Mr Pablo Kang.

"This Cambodian summit reflects our commitment to addressing shared challenges and pursuing opportunities to green our respective economies," said US Ambassador to Cambodia Mr W. Patrick Murphy. "The timeline for countries, corporations, and individuals to advance from climate ambition to action is both compressed and urgent, but achievable. I welcome summit discussions on bringing climate finance to Cambodia, led by our partner 'Green Invest Asia', and look forward to a youth-led conversation on expectations for COP26."
Designed to complement the upcoming COP26 climate change discussions in the United Kingdom, the summit was organized along four themes reflecting a united approach to combating the climate crisis.
"I was looking forward to exchanging with experts and thought leaders in order to join forces to tackle the climate emergency.''
Mr Thomas Hundt, Chief Executive Officer of Smart-Axiata, said the summit had been an unmissable opportunity for businesses to showcase the steps they had taken towards addressing the climate crisis.
By offering attendees a vision of what real steps both the public and private sector can take to show leadership in this global struggle, the inaugural CCCS21 was a celebration of just this courage, and the practical actions that we can take in the fight that will shape what world we leave to future generations.

"At Smart, sustainability stays at the centre of our business operation," he said. "We understand the immense responsibility we have towards protecting our environment while continuing to deliver connectivity services to our customers. Therefore, we have focused on mitigating our environmental impacts by implementing and supporting both internal and external sustainability initiatives to address climate change. That's why we support the Cambodia Climate Change Summit 2021, where leaders and practitioners gather to discuss and lay out their visions for innovative solutions to some of the most pressing environmental issues in the Kingdom and beyond."
The mounting climate crisis remains the greatest challenge facing the global community, and it will take a global response to mitigate and adapt to its ravages. But this emergency, and the urgent steps required to meet it, doesn't just represent disaster, but opportunity — an opportunity for the world's visionaries to invest in new technologies and practices that will require vast capital infusions, and deliver real rewards to businesses bold enough to lead the way.